Braving macro headwinds
HDFC Bank reported earnings of R10.9 bn, a 34% year-on-year, partly driven by operating leverage. Topline was up 19% YoY, driven by a 20% loan growth and margins at 4.2% (flat YoY). Core fee grew 16% YoY. As expected, CASA (current account, savings account) was down +350 bps quarter-on-quarter at about 49%.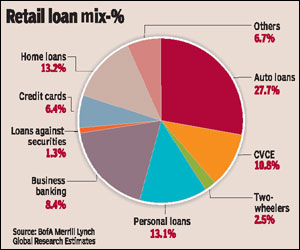 Loans grew by +20% YoY. Sequential loan growth is very strong (10% QoQ) partly driven by lending to oil companies and the Food Corporation of India. The pace of retail growth also continues to be strong at +28-29% YoY. The share of retail loans now stands at 48% vs 45% in Q1FY11, but down from 50% in Q4FY11.
Margins were down 10bps YoY, but were flat QoQ at 4.2%, despite a sharp rise in funding costs to +30-35bps QoQ. Fee income grew 16% YoY, +80-85% of fees is from retail.
HDFC reported an increase of 8% in gross NPLs (non-performing loans) QoQ, driven by (i) microfinance portfolio buyout related exposure and (ii) investment in preference shares where dividend is not paid out. However, adjusting for these, annualised slippages rate is <40-50 bps, flat QoQ. Overall, asset quality continues to remain very manageable with gross NPLs at 1% and net at 0.2%.
We have tweaked our earning estimates by <1% to factor in lower treasury gains. But, Q1 results did score high on quality (core operating parameters). We expect HDFC Bank to deliver about 30% earnings growth in FY12-13, as the bank benefits from rising distribution, liability franchise and economies of scale.
Despite macro headwinds, the bank has continued to deliver +30% earnings growth and manage asset quality. Hence, we believe the stock, trading at 23x FY12e earnings can continue to trade at least 20-21x FY13e earnings, if there is visibility of earnings growth sustaining at +30% and comfort on asset quality. We raise our price objective to R600, offering 18% upside potential.


Bought to you by

Ingenious Investor
Equity Research Division

Ravina Consulting
Pattamal Plaza
3rd Cross Kamanahalli
BANGALORE 560084

For Free Stock Advise + Ideas
sowmya@ravinaconsulting.com
Talk / SMS 08105737966

Read - www.ingeniousinvestor.blogspot.com
Follow us - www.twitter.com/smartinvestor