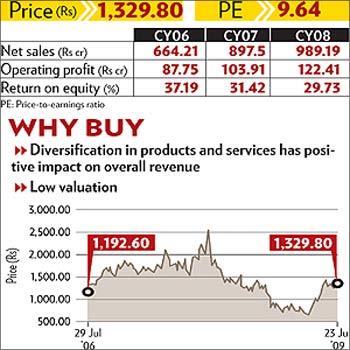 Honeywell Automation India (HAI)
HAI provides integrated automation, control and software solutions to key sectors of the economy, such as infrastructure, petrochemicals, refining, chemicals, and mining and materials.
So, one can assume the company's performance to be a function of economy's momentum. During 2008, the economy did witness some kind of a slowdown, but the severity was not uniform across all sectors.
For example, volatility in oil prices delayed capital investment in the sector, affecting HAI's business. But investment continued in sectors such as power and gas, and it had a positive impact on HAI's activities.
Overall, the year was challenging, but because of a diversified products and services portfolio, the company managed good numbers. In the year ended December 2008, net sales and net profit of the company rose by 10.85 per cent and 25.75 per cent y-o-y, respectively.
The upward trend was maintained in the March 2009 quarter. Sales and profits were both up, by 24.62 per cent and 174 per cent, respectively. During 2008, HAI also added many large companies, such as Larsen & Toubro, Tata Power and ONGC to its list of clients in different business segments.
In the coming quarters, HAI's earnings should continue to grow because of a diversified product and services portfolio and improving economy. Even if it went the other way, the company's PE, which is currently around 10, would rise.
But the rise in PE would be from a very low level and even at the new level, the stock would be attractively priced compared to its industry peers.