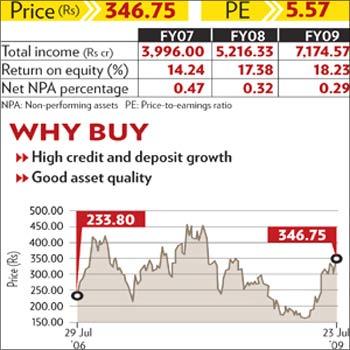 Corporation Bank
Corporation Bank, a public sector unit, is yet another bank that derives its growth from basic banking services: lending and deposit services.
A closer look at its sources of income says it all. In FY09, Corporation Bank's profit before tax from treasury operations, this is a major source of a bank's income, declined y-o-y by 8 per cent. In spite of this, it recorded a 21.46 per cent growth in net profit.
Retail banking and wholesale banking, which are other sources of its revenue, grew at 53.66 per cent and 67 per cent, respectively, which boosted its bottom line.
There are certainly some concerns that the overall banking sector's credit growth would go down amid slow economic growth, which would affect the bank's interest income.
However, to minimise the impact of slow economic growth, it is stepping up lending to small and medium enterprises and the agricultural sector. Corporation Bank pushed its loan products to both retail and corporate segments through intense marketing activities.
Growth in its credit portfolio during FY09 was 23.8 per cent, which is substantially higher than the overall banking sector's credit growth of 17.3 per cent.
Along with high credit growth, it was successful in improving the quality of its loan portfolio: the percentage of net NPA declined from 0.32 per cent in FY08 to 0.29 per cent FY09, which is among the lowest in the industry. The bank also achieved a high deposit growth of 33.49 per cent against the industry average of 19.80 per cent.
The focus was mainly on CASA growth, by targeting different sections, to keep the cost of the overall deposit base in control. The bank's effort to accelerate its deposit and lending activities should keep intact the growth in its bottomline.
Healthy and stable growth, along with low valuation (TTM PE of 5.57), makes Corporation Bank's shares worth buying.
Source Outlook Money