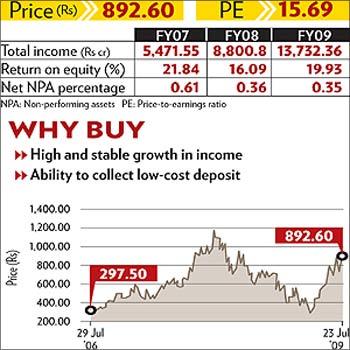 7 steady-rise stocks to buy
Axis Bank
On 6 July 2009, the day the Budget was presented, BSE Bankex Index lost 10 per cent, the highest fall witnessed among all sectoral indices. The concerns were related to rising government borrowings, which could push up the overall interest rate in the economy.
When that happens, yield on government securities and bonds rises and their value falls. As a result, banks that are invested in these securities will see a drop in their portfolio value and will be forced to register losses to the extent of the drop in the portfolio's value, which is also called marking-to-market (MTM).
The MTM loss, however, will depend on how dynamically a bank manages its investment portfolio. In case of Axis Bank, around 57 per cent of the investment portfolio is government securities, which is not marked-to-market. Therefore, the MTM loss will be restricted, as it will be applicable only on the remaining portion of the portfolio.
Also, income from investments is not used alone to judge a bank's earning potential. A bank's performance should be judged by growth in its core income.
By this measure, Axis Bank qualifies as a strong candidate for a BUY. It has performed consistently with low volatility in quarterly earnings and profit growth, ranking just below HDFC Bank.
In FY09, its net profit grew sharply at 69.50 per cent y-o-y due to high growth in core incomes -- net interest income (NII) and fee income. Increase in NII was due to expansion of its asset size or loan portfolio. Despite a growth in its asset size, the quality was maintained: the percentage of gross non-performing asset (NPA) at the end of FY09 was 0.35 per cent as compared to 0.36 per cent in FY08.
One of the bank's strengths is mobilising low-cost deposits (current account and saving bank account, or CASA). This helped the bank keep cost of funds low even as it had to pay a higher interest rate on term deposits in the second half of FY09.
Axis Bank repeated the performance of FY09 in the first quarter (Q1) of FY10: y-o-y net profit growth is up again by 70 per cent. The dynamics that worked in Q1FY10 are the same as the ones in FY09. With this kind of growth rate, Axis Bank is an attractive buy at a trailing 12 month (TTM) PE of 15.69.
Source Outlook Money